How to Change the Background of a Picture Easily and Quickly
Overview
Usually, when we submit ID photos on the website, there may be cases where the photo background does not meet the system requirements. If you don't want to find a photo studio to shoot again, you can use the tools on your computer to change the background color of the photo. In addition to some ID photos, the cluttered background will also affect the impression of an image for some daily photos. So how to change the background of a picture in easy and fast ways? This guide offers you three effective methods to replace the background of a photo. Step-by-step instructions are attainable here.
How to Change the Background of a Picture in Quick and Easy Ways
To change the background of a picture, heavy tools like photoshop may not be what we are looking for. In this post, I'll recommend three free and beginner-friendly tools that can cut out photos without effort. They are WorkinTool Image Converter, Paint 3D and Movavi Picverse. Here are the brief introduction and concrete operation steps of them.
·
Method1. Change the Background of a Picture with WorkinTool
WorkinTool Image Converter is an easy-to-operate photo editing tool available for Windows. With its straightforward and user-friendly interface, beginners can easily cope with photo editing hassles. It can automatically cut out the image without losing the quality and clarity of the original picture. Another prominent feature of it is that it allows editing photos in bulk. That is, you can replace the background of multiple images in one go. It does not ask for registration and will enable you to return the picture background as quickly as possible. Explored by an experienced software company, WorkinTool, your data privacy, and personal information are of great safety.
Let's see how to change the background of a picture with WorkinTool Image Converter.
Step1. Launch the software, then select Picture Toolbox > Matting. There are two modes to choose from, portrait matting and item matting. You can pick one according to your photo.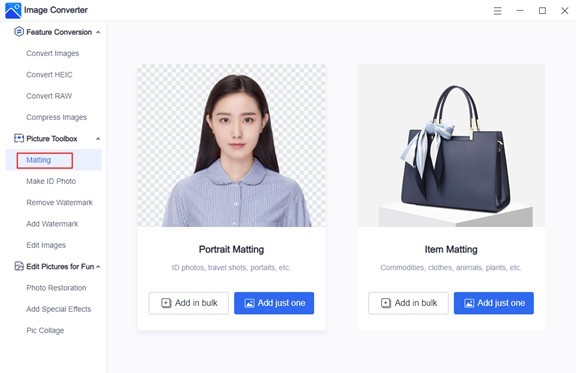 Step2. Add a picture or upload photos in bulk. Then it can automatically remove the background from the image. You can click Manual Matting to adjust if unsatisfied with the matting result.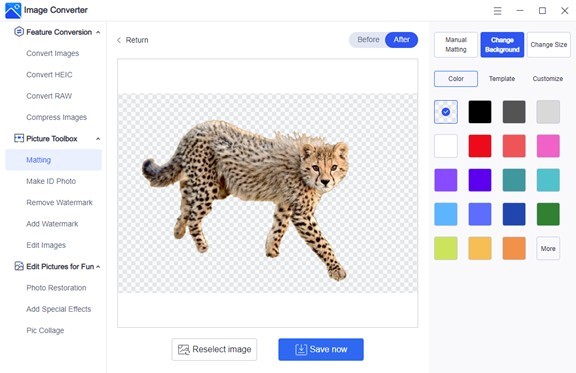 Step3. Select a new background to replace. Various default backgrounds are optional. You can also customize it by selecting a background photo from your folder.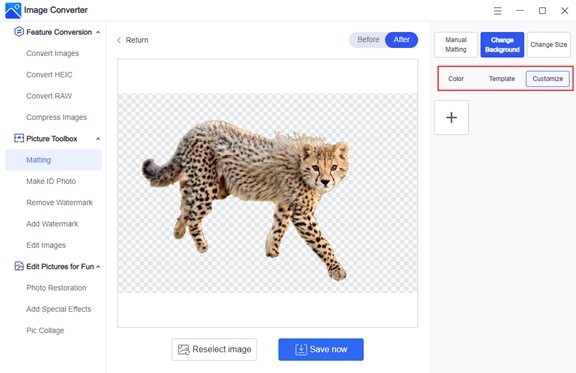 Step4. Adjust the size and location of the cut-out image, then preview the result by clicking Before and After. At last, press Save Now to download the converted photo.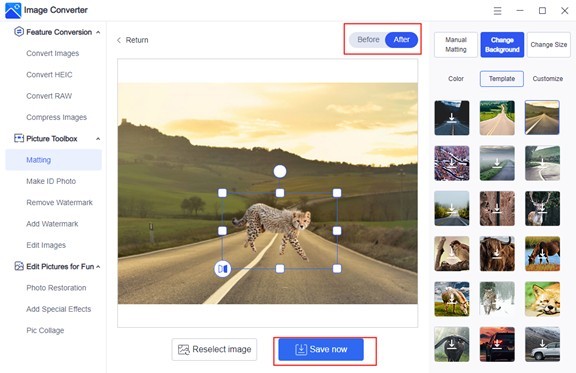 ·
Method2. Replace Background Color of a Photo in Paint 3D
Paint 3D is a 3D computer graphics tool that allows you to randomly edit your photo on Windows. You can easily change the photo background using Windows 10 and later. Developed by Microsoft, its program security is ensured. It is worth mentioning that it is available in 65 languages, and users worldwide can operate it efficiently. It is not as complicated as Photoshop, but it is also not easy for beginners. All its photo editing tools are put on one user interface. New users have to learn how to use it according to some tutorials.
Here is a guide that covers how to change the background of a picture in Paint 3D.
Step1. Get Paint 3D from Microsoft Store. Right-click your picture, then choose Edit with Paint 3D.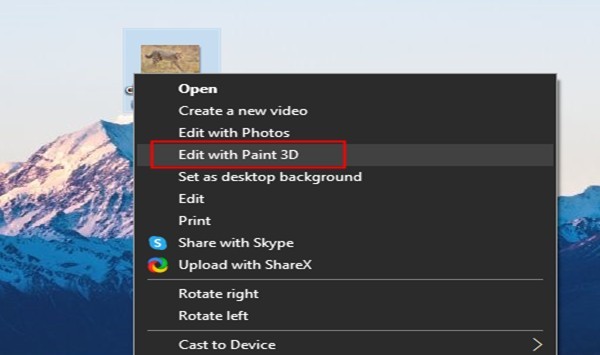 Step2. Choose Magic Select, pick the object you want to cut out, and click Next.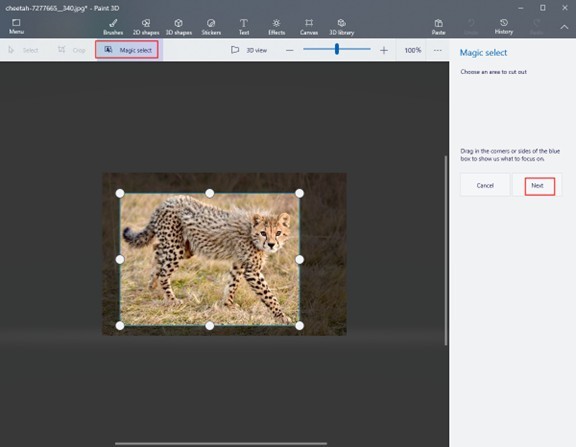 Step3. Adjust the picked area using the brush and eraser, then press Done.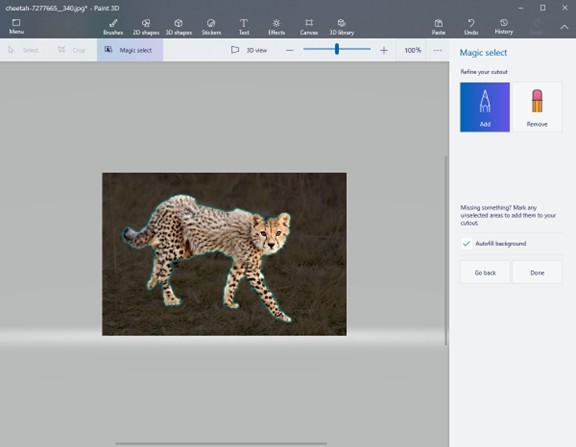 Step4. Click Brush> the filler to add a background to the cut-out image. You can choose to change the photo background to white with it. Then click Menu> Save As to download it.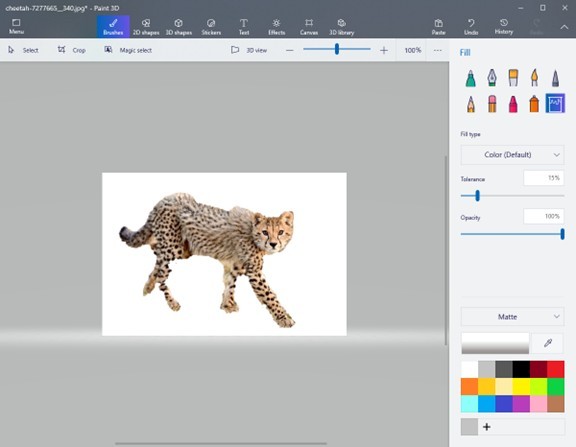 Note: In this way, you cannot upload your photo as a background.
·
Method3. Remove and Add the Background in a Photo by Movavi Picverse
Movavi Picverse is a free substitute photo editing tool for Photoshop. With it, you can remove and change the picture's background quickly. It can automatically and smoothly select the item or figure you want to cut out in a photo. Unfortunately, it will bring a product watermark to the cut-out image for free trial users, and if you want to remove it, you need to subscribe to its software. In addition, the cutting-out image process was a little bit slow during my test.
Now let's check how to change the background of a picture with Movavi Picverse.
Step1. Open the software and drag an image to upload.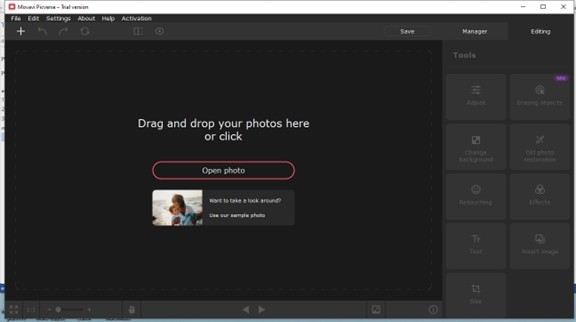 Step2. Click the change background icon, then paste Auto select. You can use the brush or the lasso tool to adjust the picked area. Then press Next Step. You can refine the details with Mask Brush or Hair Selection.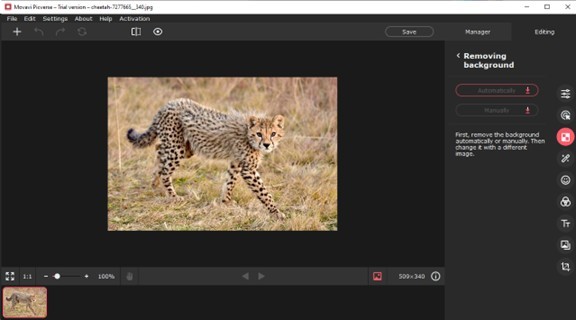 Step3. Select default background or upload another picture to set as the new background. Then click Apply to change it.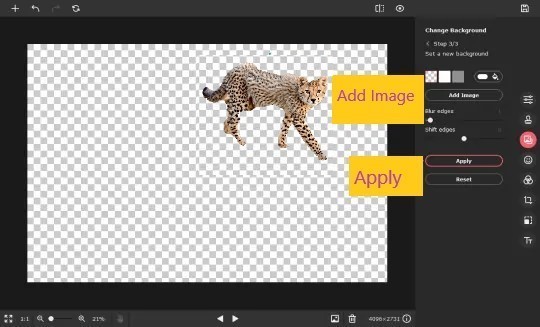 Comparison of the Three Tools
| | | | |
| --- | --- | --- | --- |
| Feature/Tool | WorkinTool Image Converter | Paint 3D | Movavi Picverse |
| Price and plan | 100% free | Free to use | A free trial with watermark; $20/ year for pro users |
| Supported OS | Windows only | Windows only | Mac, Windows |
| Result | Cut out an image in high quality | Need to adjust the picked area with the brush | Bring watermark to the cut-out image |
| Operation | Easy and quick for beginners | Complicated for new users | Easy to operate, but converting speed is relatively slow |
| Customization | Support uploading photos as background | Not available | Support uploading photos as background |
| Prominent benefit | Edit photos in bulk in one go | Multiple photo editing functions | AI-powered photo editing features |
Summary
In this guide, I have presented you with three easy and quick ways to change the background of a picture. All of them are effective and professional. You can pick one of them according to your needs.
You may also like