Learn how to effortlessly record screen and audio together using iTop Screen Recorder. Create engaging videos in HD quality. Download now!
In today's fast-paced digital world, where visual and aural experiences easily dominate our online interactions to a great extent, the ability to record both screen activity and the accompanying audio has become a pretty essential need. Whether you're a content creator, educator, gamer, or professional, the power of synchronized screen and audio recording cannot be underestimated in 2023. Introducing iTop Screen Recorder – your ultimate ally & tool in effortlessly achieving this feat and producing captivating videos that engage, educate, and entertain.
Getting Started with iTop Screen Recorder
Let's dive right into the guide of iTop Screen Recorder, where innovation suits the requirements of the general video editor or student. With its array of robust features, iTop Screen Recorder provides an arsenal of recording modes, each tailored to specific needs. Whether you're aiming to capture your screen, webcam, audio, or gameplay, iTop Screen Recorder has you covered.
Picture this: you're hosting an online webinar, seamlessly recording your screen as you navigate through insightful slides, all the while delivering an engaging commentary. iTop Screen Recorder gives you the opportunity to record these activities in crystal-clear 1080p HD or even 4K resolution. Gone are the days of pixelated visuals – iTop Screen Recorder ensures your content shines with remarkable clarity.
Recording Your Screen and Audio Simultaneously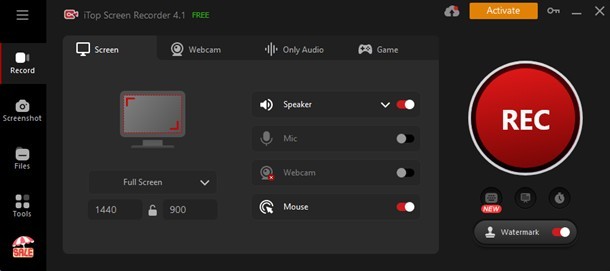 Now, let's unlock the magic of simultaneous screen and audio recording. Imagine recording a software tutorial where your viewers not only see the steps but also hear your clear explanations in real time. With iTop Screen Recorder, achieving this synchronization is as easy as 1-2-3.
First, set your preferences: choose your desired recording area, adjust settings to your liking, and get ready to hit that record button. As your screen comes to life with your actions, iTop Screen Recorder captures both your visuals and audio inputs, whether it's the soft hum of your microphone or the immersive sound effects from your application.
Editing and Enhancing Your Recorded Content
The journey doesn't stop at recording. iTop Screen Recorder boasts an intuitive built-in editor that empowers you to craft your content into a masterpiece. Imagine this editor as your virtual editing studio, where you can arrange and refine your recorded clips effortlessly.
Trim, split, merge – it's like wielding a digital pair of scissors and tape, only much more sophisticated. Add a touch of flair with text overlays, subtitles, and stickers. Enhance the viewer's experience with visual and audio effects that keep them glued to the screen, eagerly anticipating your next move.
Sharing Your Recorded Content
Now that your masterpiece of a video is complete, you can show it to the world without a second thought! iTop Screen Recorder offers a range of output formats for this, from the versatile MP4 to the classic AVI, ensuring compatibility across platforms.
And here's the icing on the cake: one-click sharing directly from the software. No need to navigate through multiple tabs and menus – iTop Screen Recorder streamlines the process, allowing you to swiftly spread your creation across social media, e-learning platforms, or your professional network.
Tips for Creating Engaging Videos with iTop Screen Recorder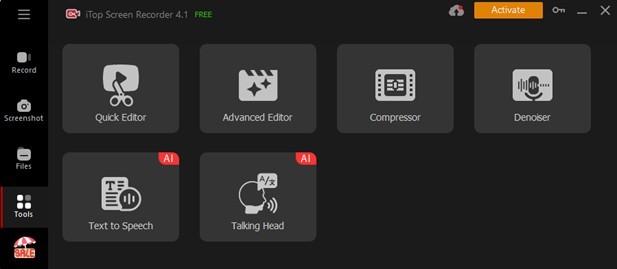 As you embark on your journey to video creation excellence, consider these pro tips to elevate your content further:
1. Teleprompter Brilliance: Ever stumbled over your words during a recording? Say goodbye to those awkward moments with iTop Screen Recorder's Teleprompter feature. It's like having your script displayed in a gentle scroll, ensuring you deliver your lines with confidence and finesse.
2. Annotation Magic: Transform your videos into interactive experiences using iTop Screen Recorder's annotation tools. Just like a painter adds strokes to a canvas, you can add highlights, text, and drawings to emphasize key points, leaving a lasting impact on your viewers.
3. Step-by-Step Wizardry: Crafting step-by-step guides has never been smoother. Record, illustrate, annotate, and edit in a few clicks. Share your newfound knowledge and skills with colleagues and friends, and bask in the admiration of your tutorial prowess.
Conclusion
In a world where visual and auditory storytelling reign supreme, mastering the art of recording screen and audio simultaneously is a game-changer. You may make videos that people will cherish for a long time, thanks to the cutting-edge technological features of the Screen Recorder from iTop.
So, don't wait – unlock the potential of iTop Screen Recorder and transform your content creation journey today. Whether you're explaining complex concepts, showcasing gameplay prowess, or guiding others through intricate processes, iTop Screen Recorder is your reliable companion on the path to video creation mastery.
So, why wait? Download iTop Screen Recorder now and let your creativity take flight. Your audience awaits your next remarkable creation.
You may also like