13 Most Admired Wedding Hairstyles For Girls
Greetings, lovely ladies!
I'm sure you're getting butterflies in your stomach after reading this title, right?
As we all know, in India, a wedding does not simply finish with the wedding ceremony; it includes everything from the engagement to the Haldi event, Mehandi ceremony, Sangeet night, and reception after the wedding, among other things.
And on these important days, we want everything to be in place, from our jewellery to our shoes. And, while we're on the subject of the perfect look, we can't forget to note that getting your hair in order is crucial, as it can make or break your entire ensemble.
These days, wedding hairstyles aren't just about making a bun and decorating it with flowers but they reflect your style and personality.
And we understand that you must be quite busy planning everything for your big day, but don't worry because we have a one-stop solution for your problem.
So, let us enjoy this together as we strive to present some stunning hairstyle for girls for wedding that will help you take your wedding vibe to the next level, whether you are wearing a rich gown, a heavy Lehanga choli, or a classic saree.
So, without any waste of time, let's get started.
Traditional Gajra Bun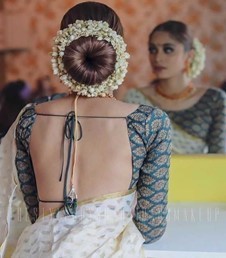 Indian women have historically been seen wearing Gajras with pride. It has always held a special place in Indians' hearts and is regarded as traditional bridal jewellery in many parts of the country. So, are you prepared to look stunning with this elegant Gajra on your wedding day?
Fabulous Flowery Bun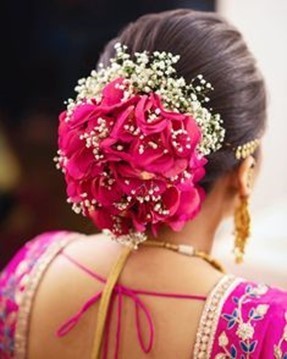 If you think Gajras on buns are old, try experimenting with various flowers! Roses, whether red or not, lend flair to a straightforward bun. In reality, in addition to roses, you might also think about other types of flowers, such as carnations, jasmine, lilies, etc. You won't simply smell good; you'll also look attractive!
Irresistible Twisted Bridal Bun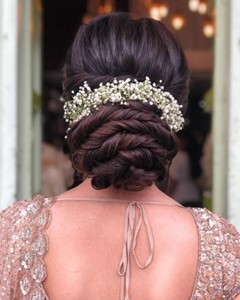 This is a beautiful and stylish bun with twists and floral decoration. If you want a traditional bun with a fancy twist, this could be one of the themes for your ideal look. The good thing about this look is that it goes well with both your lehenga and gown, so if you're looking for something similar, congratulations, you've found it.
Elegant Side Braids Bun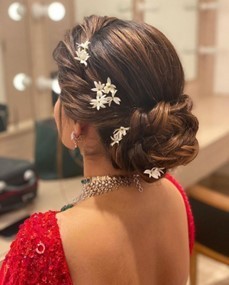 The side braid bun is one of the most popular and stunning hairstyles for weddings. It is a wonderful side bun and hairstyle combination that compliments all face shapes and is especially well-liked when worn with lehengas and gowns. Consequently, if you're looking for a stylish bun, this one can be a fantastic choice for you.
Royal Crown Braid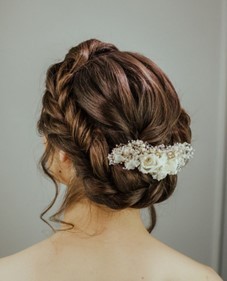 Presenting you one of the popular choices of girls these days, crown braids are dynamic hairbands that can be fitted with any hair type and offer a distinct texture to your hairstyle that can be seen from all angles. It is the perfect hairdo for your wedding look and you can book it as an inspiration hairstyle for saree as well.
Lovely Loop Waterfall Braid Hairstyle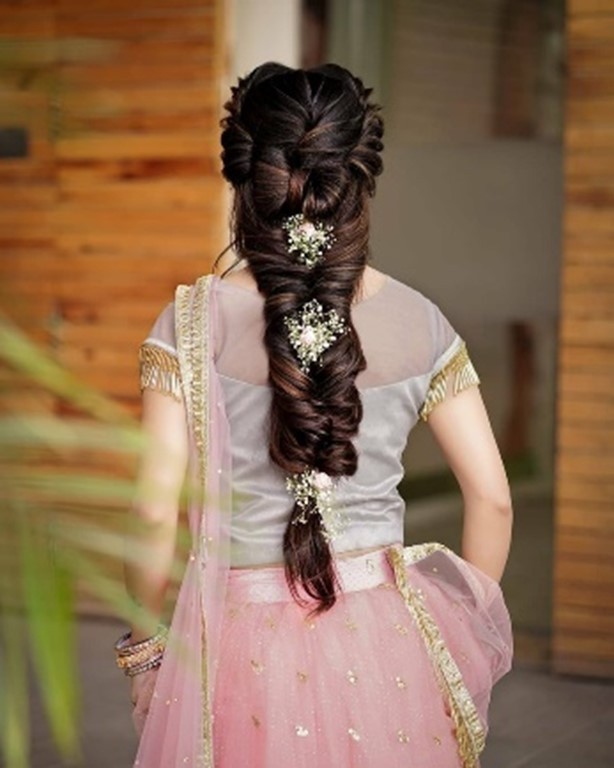 This hairstyle is incredibly elegant-looking and looks best on long, volume-filled hair. It complements a lehenga choli well. For a more opulent appearance, pearls might be used in place of the floral braid. Therefore, this can be a fantastic fit for you if you want to flaunt your long hair at a wedding.
Popular Half-Up Semi-Natural Curls Hairstyle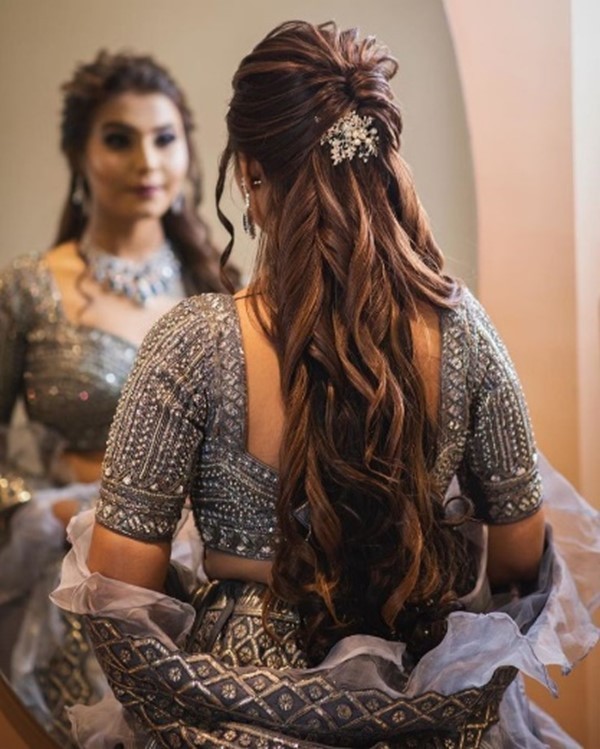 This is a lovely half-up hairstyle with open natural curls. It looks great with both a lehenga-choli as well as a gown. If you can't decide between straight hair and full curls, this is a good option. So flaunt your open hair with semi-natural curls. Both pearls and floral styling can be used here.
Voguish Ponytail Hairstyle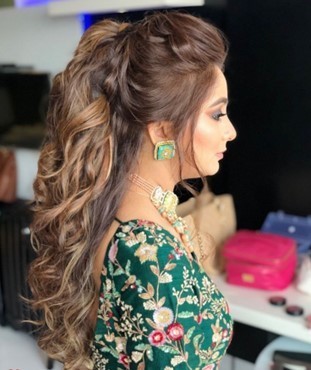 This is a stunning and opulent hairstyle. It is a voguish ponytail with a bun half up. It can complement your lovely wedding outfit perfectly. If you don't want your open hair to bother you and want to enjoy the function in complete comfort while still looking stylish, this can be a good option for you.
Delightful Half-Tie Hairstyle With A Middle Rose Bun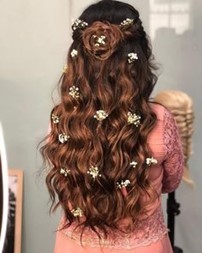 What if you want to wear a bun as well as open hair? We have the perfect solution for you: a half-up bun hairstyle with a small cute rose bun in the middle and large curls decorated with pearls and flower decoration. Isn't it enticing and satisfying? So, would you like to try this unusual hairstyle fusion?
Exquisite Retro Curls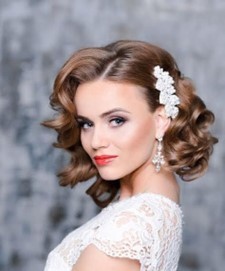 Some hairstyles never go out of fashion and present you with one of the vintage hairstyles these curls. This wavy retro hair and your beautiful wedding gown are a complete vibe. And, simply, you can style at home. There are two methods: pin curl and styling look.
We can make sure that this vintage charm will make you talk of the evening!
Trendy Bubble Hairstyle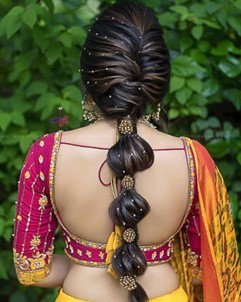 We stumbled into an incredible new bridal hairstyle that is not only sweeping the internet like wildfire but also capturing the hearts of brides everywhere. Introducing bubble braids, which are fashionable, fascinating, and simply managed. So, if you're intending to wear a saree or pretty Lehanga, release a remark with this stunning hairstyle.
Splendid Soft Curls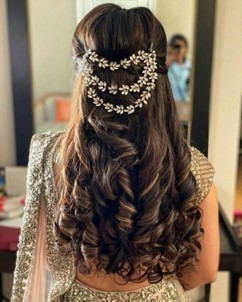 The hairstyle will look fantastic on the hair of practically any length, whether you're organising a destination wedding or simply adore the aesthetic of beachy waves. Soft curls are always a good choice because they are a basic and stylish style that matches any outfit and, when combined with braids, they make a really attractive look.
Incredible Fish Braids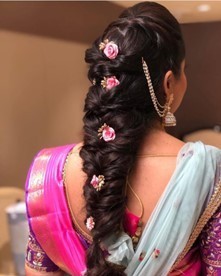 We all know without a doubt how wonderfully braids work for a Haldi and Mehandi ceremony fishtail because they are completely hippie. However, they can also be a fantastic upgrade to your attire for your wedding day. They are simple, classic, and completely fuss-free as every girl dreams so is this a good pick for you!
Aren't these all hairstyles wonderful enough to brighten your wedding ceremony? We hope you find your ideal hairstyle.
Thank you for being with us. Happy Styling!
Related: the perfect wedding look
You may also like